MEC electric carsharing
Rent an electric vehicle for hours or days
How does it Work?
Discover all the advantages of renting electric cars for hours or days with MEC carsharing in Barcelona: reduce costs and polluting emissions. Don't worry and enjoy your trip with comfort and tranquility.

Download the app and sign up

Book and rent for hours or days

Enjoy your sustainable journey!

Pay only for what you use

Return the car to the same parking lot
*Bonuses in the blue and green parking zone of some municipalities, use the parkimeter or the SMOU app.
Fidelity
50 km included per day
Nissan Leaf 30

Nissan Leaf 40

Nissan Leaf 62

* Km included in each reservation
0,20€/km for additional km
Our cars
Discover the comfort and safety of the most innovative electric cars, at your disposal in our car parks.
Nissan Leaf 30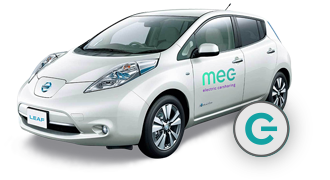 Power: 109CV
Battery: 30 kWh.
Intercity autonomy: 150 Km
Highway autonomy: 120 Km
Trunk volume: 370L
Seats: 5
Nissan Leaf 40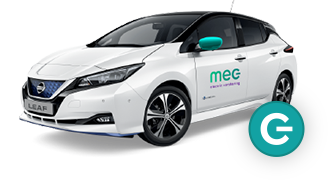 Power: 150CV
Battery: 40 kWh.
Intercity autonomy: 270 Km
Highway autonomy: 200 Km
Trunk volume: 435L
Seats: 5
Nissan Leaf 62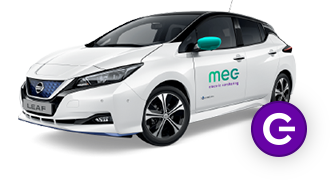 Power: 213CV
Battery: 62 kWh.
Intercity autonomy: 370 Km
Highway autonomy: 300 Km
Trunk volume: 435L
Seats: 5
Find your nearest car
Do you want to know where you can find our electric cars?
Discover our car parks.
Renting an electric car has several advantages
Easy driving
Electric vehicles work without clutch, transmission and gear shift. Driving an electric car is really easy! Just keep up speed and follow your way, no levers or pedals are recquired. In addition, with the technology of our cars, it has never been easier to park.
Quiet circulation
One of the main characteristics of the electric vehicles is that they travel without noise. They offer great comfort inside, because there are no vibrations related to the engine. You will be surprised with the acceleration of the engine, they reach their maximum power in a few seconds.
Environmentally responsible
With our electric cars, now it is possible to drive without emitting polluting gases. They are known as "zero emissions". In addition, the noise pollution is reduced. In an electric car you just hear the mild noise of the engine and the tire friction.
Do you want more information?
Call us by phone
Business hours:
Monday through Friday 8 a.m. to 8 p.m.
Emergencies:
Monday to Sunday 24 hours.
For WhatsApp
For any non-urgent management
By email
Or fill out this form
and we will contact you.